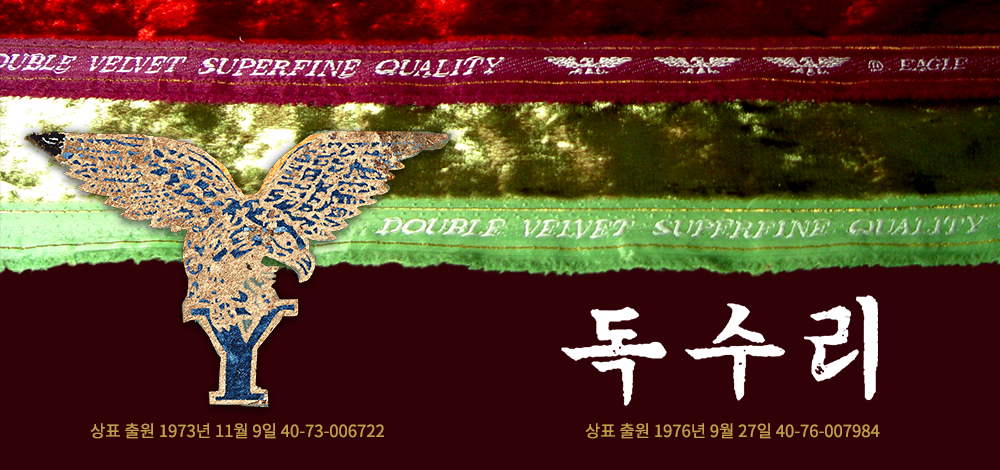 Brand management BRAND ADMINISTRATION
Pride of Global Velvet 60 Years Artisan Company
Founded in 1960, Youngdo Velvet, which developed velvet fabric for the first time in Korea, transformed Korea from a velvet importing country to an exporting country. It is an enterprise.
All Youngdo Velvet products are produced in KOREA at the Gumi Industrial Complex's own integrated production facility from yarn to weaving to dyeing, and more than 90% of the products produced are exported to 124 countries.
Creation of the world-class luxury 'Three Eagle' brand myth
Youngdo Velvet took the lead in introducing value management through brand asset management with confidence in craftsmanship for 60 years. Starting with the application for the soaring eagle in 1973, we have applied for and registered 29 domestic and 8 overseas trademarks. We have brand names such as [Youngdo] [Velvet] [Youngdo Velvet] [Eagle] and [Three Eagles] as well as various trademark shapes using eagle shapes.
In particular, the three lines of writing and the three eagle figures engraved on the selvedge to distinguish it from competitors' imitated products are trademarks that guarantee the highest quality, and are symbols of Youngdo Velvet's pride and customer satisfaction.
Realization of Value Management with Velvet Heritage
Youngdo Velvet has taken off as a world-class company since 2000 as a result of design management as a metaphor of Velvet, the heritage that our parents cherished more than jewelry. In order to impress internal and external customers with the corporate heritage of Youngdo Velvet and share the culture of 'Velvet', the company space was decorated with velvet, and the world's first Velvet Cultural Complex <Youngdo-Daum Gallery> and Velvet Industrial Complex <Be Road 1960> was opened. Here, we not only experience velvet culture, but also spread velvet craftsmanship, nurture industry-related talent, and practice social values ​​together.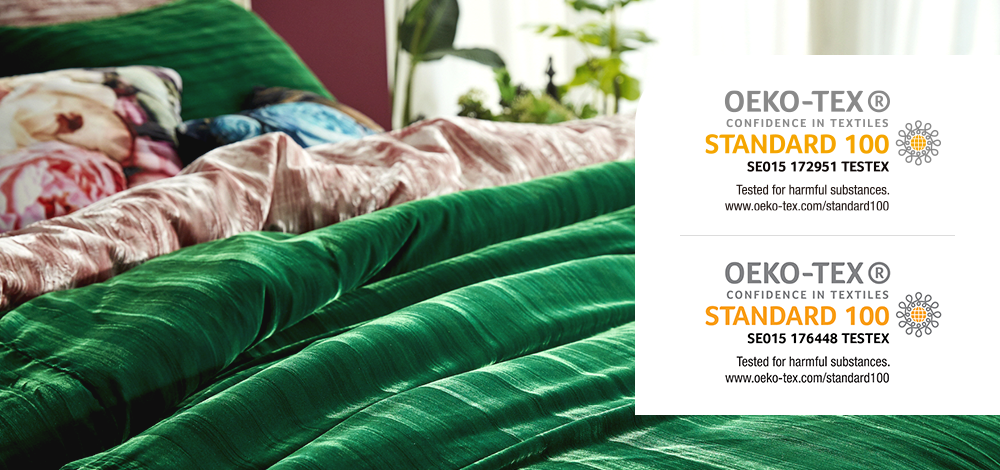 Eco-Friendly
Value Management ECO-FRIENDLY MANAGEMENT
Think about the environment, ECO-VELVET
All products produced by Youngdo Velvet consider the environment. For products that have realized eco-friendly values, we provide customers with the eco-friendly signature <ECO-VELVET> trademark and label, and are expanding promotions by producing <ECO-VELVET> Instagram and marketing videos.
<Recycled velvet> using recycled yarn regenerated from discarded waste, Acetate rayon velvet replacing natural fibers with limited resources, High-density antibacterial velvet developed as a substitute for leather in response to the vegan fashion craze are developed and provided to customers. We also provide Nylon Velvet developed with biodegradable nylon fiber and Natural Velvet developed with organic cotton, bamboo fiber, and corn fiber. And all products of Youngdo Velvet use eco-friendly dyeing process and dyes that have passed ISO 14001, an environmental management system, and GRS (Global Recycled Standard), an eco-friendly textile certification program. Recently, OEKO-TEX certification marks were issued to 3 products that passed tests on the use of legally regulated chemicals with more than 100 experimental variables. Youngdo is a company that respects the environment creating a bright future world.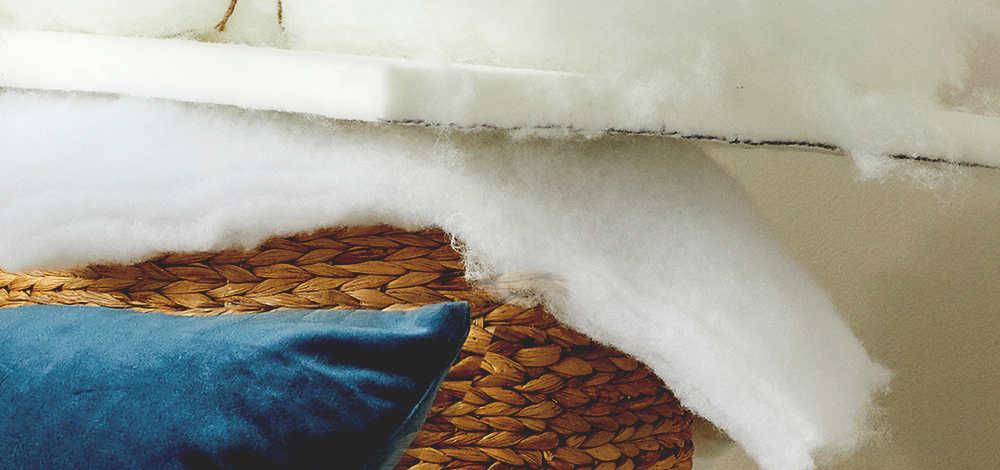 Upcycling UPCYCLING
Upcycling donation culture, Amazing Velvet
We operate <Amazing Velvet>, a program that redesigns or reforms remnant fabrics from annual production of 8 million yards and donates them to schools, social organizations, and recycling centers. In addition, some upcycling products are branded as <Youngdo Velvet Three Eagle> and sold at online shopping malls <Youngdo-Daum>, cultural complex space <Youngdo-Daum Gallery>, and industrial complex <Be Road 1960>, and some of the proceeds are donated to the society. I am returning it to.
Biodegradable upcycling Products, velvet waste fiber sheet
In line with the global trend of eco-friendly business environment, Youngdo Velvet is also minimizing defective products through production innovation, but an average of 1.3 tons per year is still being poured out. Of these, waste fibers that cannot be reused are all incinerated, and incineration costs 400,000 dollars a year (excluding incineration facility costs).
Youngdo Velvet develops textile sheet paper that can be used for upcycling products by disassembling waste household textiles as well as velvet waste fibers, and is seeking to create a new market with a prototype, and is building facilities with the goal of mass production in 2025. is. Under the premise that Velvet Waste Fiber Sheet can be biodegraded, hazardous substances are minimized and biodegradable films are used in the processed products.
Velvet waste fiber sheet can be easily applied as a daily product by anyone of any age or gender. It can be easily cut to make bookshelves, tablecloths, ornaments, etc., and can also be applied to molded products that require finished product technology such as IT product cases and bags.